Why We're Your Best Choice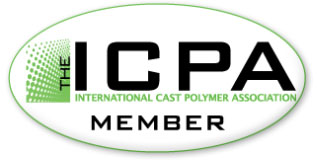 One look at our customer comments should give you a good idea that our materials, design and construction skills produce the industry's best and most durable molds, as well as ensuring peace of mind and productivity. We oversee the production of every mold and pattern built, ensuring the quality and durability of our parts. Our high quality framing is the best you'll find, and critical to our reputation for durability. Some of our molds are still in use after 20+ years. All this has led to longevity in a difficult and tedious industry, as expressed by our loyal customer base.
Here are some more details on what sets us apart from the competition:
Skill and Innovation

20+ years in the business
We have repeatedly demonstrated the ability to take an idea and create a new mold or pattern from scratch or customize/modify existing molds
Years of experience not only with producing parts for the cast polymer industry, but also with various types of tooling procedures in other industries. These include delivery truck component parts, automobile parts, marine parts, golf cart components, speaker housings, outdoor life shelters, industrial water towers, aquariums, and power company personnel equipment.
Our experience has allowed us the innovative foresight to see the entire process of any custom product before we begin, ensuring the project can move along smoothly without any delays.
We hold several industry patents
Customer Service

You talk directly with the owner/manager/builder team
We work directly with each client on an individual basis, ensuring their expectations will be met before the start of a project.
Design/Construction/Build Quality

Made to last and stay in peak condition – many still in the field after 20+ years
We use our industry's most effective and longest lasting materials
Our framing and reinforcement are the best you'll find, and key to our durability
We inspect every single step of the production of our molds from start to finish, as well as overseeing the shipping and crating
The immaculate care we provide to our permanent master patterns
Durability

Reduce your downtime due to mold repairs and failure, eliminating costly maintenance downtime and lengthy repairs
We produce highly durable products resulting in molds that last for years
The structural integrity of our molds is the result of our heavy duty bracing systems, leading to a mold that can withstand heavy use and abuse
Custom Work

We'll find new ways to meet your needs, making your work more productive

Solving complex design issues can be tough. We have solutions for your most complex and challenging needs/designs/projects. No challenge is out of reach. Let us customize a solution – our specialty.
Our custom molds include unique wall tile designs, shower niches, bowl molds and trim molds
We can take an idea and create a new mold or pattern, or customize or modify an existing mold, to satisfy the needs of individual clients
The process: After an initial conversation, we will advise if the project is feasible, give you a time frame, and begin your project when you're ready. We work directly with you on a personal basis, ensuring your expectations will be met before the start of the project.